Learn Tips, Tricks & Skills from the Experts



Increase Your Emergency Food Security With Edible Wild Plants, Learn How to Read Animal Track & Sign, & Put a Razor's Edge On Your Wilderness Survival Training.
Access On-demand Course Now...Live Classes Begin Apr. 19th for 8 Weeks
Self-Sufficiency, Emergency Preparedness, and a Better Understanding of the Natural World: Take Your Skills To the Next Level...
Hello, my name is Lee Burton, founder and owner of Naturalist Studies and an adjunct professor in animal behavior at several universities. I grew up in small town Texas where my father and other relatives took me fishing and taught me how to hunt. I developed a love for almost anything involving the outdoors, whether it was catching a fish in a wooded canyon stream, or traversing a hillside to sneak up on an unsuspecting deer.
But when I became an adult, I realized I didn't know near as much about the outdoors as I thought I did. So I began studying everything I could about the natural world to learn as much as possible about animals, plants, and ecology in general, becoming a master naturalist along the way.
That path led me to travel the world, visiting some of the most remote places on the planet in Asia, Africa, and South America to see first hand what nature had to offer and how people interacted with it. Those experiences were amazing, and I saw and learned things that most people will never see.
But I wasn't satisfied.
When I returned home, I still had this itch that needed scratching. It was great to learn ABOUT nature, but I wanted to interact with it, to learn more hands-on skills, to CONNECT and have a relationship with it. So I doubled-down and started taking courses and reading books on ancient skills, sometimes referred to as 'Traditional Ecological Knowledge' (TEK) which included pursuits like animal tracking, bird language, foraging, and wilderness survival.
And that changed EVERYTHING!
Rather than just viewing nature through the lens of an observer, I was experiencing it first hand. Perhaps more importantly, I began to realize that I was actually part of the story, one that was unfolding around me every time I stepped outside, even in my own back yard. My own experiences were so much more rewarding, and I wanted to find a way to share that with others.
I always enjoyed teaching based on previous experience, so I played around with the idea of starting an outdoor school. But there were a lot of established schools already, and I wanted to reach more people than just my local community. Then one day I got a call from a friend who was a biology professor at a respected university, and who knew about my outdoor skills. She asked if I would consider authoring and teaching an online class on animal tracking.
My response was, "You're not serious. How could someone learn field skills online?"
But after kicking the idea around some more, I began to think it might be possible. I started developing a few online lessons to see how it might be done. And to my great surprise, not only was it doable, but it actually offered some great advantages. So I finished the course materials and taught a class to a group of university students and held my breath...and then the feedback came in.
I was astounded. The reviews were off the charts. Many students said it was their favorite course they had ever taken. Why? Because in an online environment you can visually show the essentials of what someone needs to know and you aren't limited to a 'once only viewing.' While in-person classes are great, you typically only get a few hours of instruction and then are left to your own devices. With online learning, you can return to watch it over and over again, reinforcing the understanding while picking up new aspects each time.
To be fair, you can't simply watch something online and then become an expert at it. Just like reading a book or instruction manual, you have to go out and practice the skills or do your homework so to speak, and then repeat it until it sticks. But if you are willing to put in the 'dirt time', then you CAN and WILL become proficient in outdoor skills.
After that first semester, I taught the course again at several other universities, getting the same positive feedback each time. I knew I was onto something, so I founded Naturalist Studies with the intention of offering the same valuable content to the general public.
Now I am teaming up with survival expert and foraging instructor Matthew Hunter to bring you this course. And we're making it available at an extremely discounted rate: three courses for the price of one (foraging, tracking, survival). The Ultimate Outdoorsman combines my years of experience in animal tracking and behavior with Matthew's deep knowledge of wilderness survival and edible plants to bring you the ultimate online course for learning outdoor skills!
Introducing: The Ultimate Outdoorsman
The Ultimate Outdoorsman is an 8-week online course designed to equip the learner with a comprehensive training system for learning outdoor skills.
Included with the 8 weeks of live training are 3 full-length on-demand courses with over 50 hours of instructional video that will guide you through wilderness survival skills, wildlife tracks & sign, and edible plant foraging...an unbeatable value!
This is a course made by outdoorsmen, for outdoorsmen, and is designed for people who want to be out in the field, dedicating time to hone and sharpen their craft.
Video lessons walk the learner step-by-step through the most important, time tested skills that every outdoorsman needs to know to become a self-sufficient and astute, well-rounded woodsman.
Without a systematic training program, people can waste years in the field training without a clear goal or mission. With The Ultimate Outdoorsman, you'll have a comprehensive framework to work through for years to come, gaining tangible results and achieving consistent, measurable growth in the outdoor arts and skills of woodsmanship.
Sharpen Your Wilderness Survival Skills so You're Ready for Anything!
Start Harvesting Nutritious Wild Plants and Gain Access to an Unlimited Emergency Food Supply!
Learn the Art of Wildlife Tracking And Start Finding Animals Faster!
Pass Down Important Skills To The Next Generation!
Week 1
The Naturalist: Identifying Plant & Animal Resources In Your Area
The famous scouts, pioneers, and mountain men of old had an intimate knowledge of the natural world that allowed them to subsist on the land and thrive in hostile conditions. In this lesson you're going to discover the hidden lives of plants and animals so that you too can learn to identify and utilize the natural resources around you.
Intro to Tracking and Track Morphology

Tree and Leaf Identification: The Foundation of All Nature Study

10 Common Useful Plants for Bushcraft and Survival
Week 2
The Survivor: Cheating Death In the Wilderness
Every year people die in remote wilderness areas due to a lack of preparedness, poor planning, and a general ignorance of the dangers of backcountry travel. In this lesson we're going to look at the top causes of death in the wilderness and list the practical steps you can take to avoid becoming a statistic.
Know the "ten fatal mistakes"


Learn how avoid fatal mistakes in the wilderness by studying how people have died in the past

Learn the history of wilderness death and injury so You Can Avoid the past mistakes of others
Tips for learning survival skills QUICKLY

(7 rookie training mistakes to avoid)
Week 3
The Hunter: Identifying & Locating Big Game
Hunting is a lot more than grabbing a shotgun, running out into the woods, and hoping for the best (although that's how most of us got started). In this lesson Lee goes through strategies for effectively locating animals so you can be more successful on your next game expedition.
Finding game trails and identifying and recognizing fresh animal sign

Techniques for finding deer, elk, wild sheep, and moose

The Map Scout: How to find good hunting locations by understanding the ecology and terrain
Week 4
The Forager: Living Off The Land With Wild Plants
Foraging is an age-old tradition that was once heavily relied upon for daily sustenance. In this lesson you're going to get a basic understanding of what it takes to start harvesting your own food right from the wild!
Learn the

high-calorie survival foods

that can REALISTICALLY feed you if an emergency strikes

Discover 4 key strategies for living off the land with wild plants

Learn which widespread plants Native Americans used to survive during hard times and famine
Week 5
The Trapper: Predator Tracking and Self-Sufficiency in the Wilderness
Learning how to set up snares, footholds, and conibears is a skillset unto itself, but it's nothing compared to the years it takes to become a competent tracker. In this lesson we're going to look at what is arguably the trappers most important skill set: finding animal tracks and trails.
Big cats: Everything you need to know to track bobcat, lynx, and mountain lions

Canine track & sign: Wolves, foxes, and coyotes

Medium sized game (and tricks for catching them)

The 3 most reliable emergency food procurement methods for living off the land
Week 6
The Mountaineer: Mastering the Elements
During the 1986 Steger Expedition to the North Pole, an eight man team traveled 300 miles on dogsled without any resupply. The average temperature during the expedition was between -20° and -40°F, but at one point it dropped down to a whopping -71°F. In this lesson we're going to look at techniques that mountaineers, arctic explorers, and other cold-weather professionals use to stay comfy and cozy at extreme temperatures.
Principles of cold weather clothing + recommended clothing systems

Frostbite and hypothermia prevention

Shelter building principles: What they don't tell you in 99% of survival books

Survival fires: Starting and maintaining a life-saving fire in wet, windy conditions
Week 7
The Explorer: Remote Wilderness Navigation
Getting lost is one of the primary causes of death in remote wilderness areas today. Year after year we hear stories of people getting lost(usually hunters) and then freezing to death or dying from dehydration as a result. In this lesson you'll learn how to end your dependence on electronic navigation devices and get back to doing it the old fashioned way: With a map and compass.
Traveling off the beaten path: The basic skills of reading a map and compass

Common navigation errors (and what to do if you get lost)

Broken down at the worst possible time: Vehicle survival in extreme heat and cold

Bear tracking and safety
Week 8
The Happy Camper: Roughin' It With a Smile
So many people today hate camping, and most of the time it's because they've had a handful of bad experiences where they were absolutely miserable in the outdoors. Whether it's biting insects, or wet, rainy weather, the outdoors can be a rough place if you aren't prepared. In this lesson we're going to look at how anyone can be comfortable in the outdoors with a little pre-trip planning and know-how.
How to build a bug out bag or 'expedition ready kit'

Car camping with style + equipment list

Recommended survival gear that I've used over my 10 years of exploring mountains, deserts, forests, and swamps

Don't get eaten: Bear tracking and safety
Included With This Course: 3 Full-Length Online Courses That You'll Be Coming Back To For Years To Come!
Fundamentals of Wilderness Survival
Fundamentals of Wilderness Survival is a comprehensive video course designed to guide the learner through the basics of avoiding and surviving real-world wilderness emergencies.
Great care went into researching and filming so that the course provides the students with one of the most extensive and well-rounded survival education available on the market!
Students of this course will learn about the history of wilderness survival, how to make a fire for warmth and survive in the worst circumstances, emergency shelter-building techniques, purifying water in the wilderness, knots useful for tying up tarp shelters, how to pack a survival kit for remote outdoor travel, clothing for extreme environments, and much more.
Matthew combines his extensive field experience and his broad knowledge of survival literature to bring you a course that is detailed, thorough, practical for everyday situations, and accurate. Most importantly, the vast majority of the skills taught will immediately change your everyday life in the outdoors. This course isn't just for that "1-in-a-million" situation, it's meant to give you practical skills you can implement immediately for added safety and comfort.
Here what one survival instructor had to say about it:
"The course is, without question, one of the most comprehensive and detailed programs available. I have been studying Bushcraft, Wilderness Survival, and General Outdoor skills for over 25 years, teaching those skills for over 15 years. I was very pleased with the incredible detail Matthew presents in his course. This detailed program will allow the student to become very confident in their knowledge of outdoor skills."
— Keith Farrar
Instructor, School of Self-Reliance in Southern California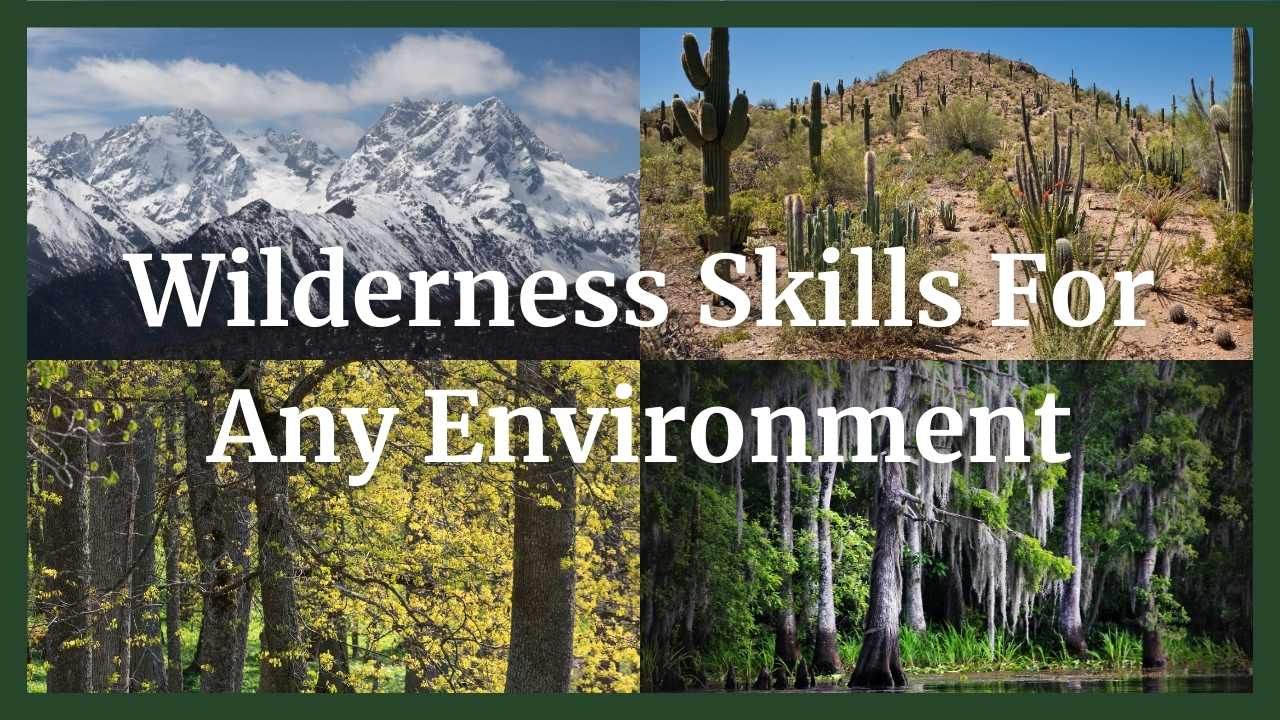 Wildlife Tracks & Sign Course
When you learn the ancient art of tracking, you will be able to read the signs left by animals and uncover their hidden stories. You will discover what animals are in your area, when they were there, what they were doing, and how to find (or avoid) them. You will know how to identify the big buck, understand what the bear was doing near your campsite, and recognize when the mountain lion crossed your trail. You will be able to ascertain wildlife behavioral patterns, seasonal habitats, preferred resting spots and feeding areas, and how to follow the footprints and other sign they leave behind.
In addition to learning the tracks of the key orders of mammals, you will also learn how to interpret gaits which are vital to interpreting animal behavior, as well as how to recognize other sign like scat, denning/bedding, marking/scraping, and the many types of feeding sign left behind by wildlife.
Lee spent five years developing the content for this course which he teaches at several leading universities, including the University of Florida and Texas A&M. His students consistently rank this course as their favorite because of its practicality and usefulness, as well as just being plain fun.
By sharpening your senses and improving your observation skills, you will also gain a deep understanding of animal movement patterns and their likely whereabouts, while connecting with nature in a profound way. So whether you're a wildlife enthusiast, a nature lover, or a professional biologist, wildlife tracking is an essential skill that will enrich your life and deepen your appreciation for the natural world.
Here's what a couple of Lee's students had to say:
"I did not realize how successful I became with the content of this course until I took one of my fellow environmental police officers with me. As I explained to him what I was looking at with the deer tracks, he simply looked at me in amazement and said 'Where did you learn all of this?' It was at this moment that I realized I had obtained a skillset that a senior game warden did not possess."
— Adam Brightman
"This course was one of the best classes that I've ever taken...the overall experience was awesome. As the course progressed, I began to recognize patterns and everything began to click logically."
— Kayla Freeland
Foraging: Identifying and Harvesting Edible Wild Plants
Foraging is a skill that has been passed down from generation to generation for thousands of years. In this course you will learn how to confidently identify and harvest common edible plants and emergency foods while avoiding dangerous lookalikes.
Matthew began studying foraging when he was only seventeen and through the years has become an edible plant expert. He's filmed dozens of videos about edible wild plants and created multiple outdoor education courses on the topic, as well regularly leading edible plant walks in his local area. Hence, he knows what it takes to train people to confidently forage for edible wild plants all on their own.
Foraging will start you on a path that over time will enable you to master the techniques for properly identifying, harvesting, and preparing wild foods, and in the process expanding your culinary horizons while improving your health and giving you a hobby you can enjoy with friends and family for the rest of your life.
Here's what a couple of Matthew's students had to say:
"Foraging 101 with Mr. Hunter gave me so many opportunities to grow my skills in the outdoor field! After taking this course, I've shown people all sorts of plants and what you can do with them! People enjoy it so much when I tell them what delicious plants you can find in the wild!"
— Grace Harris
"Not only do you gain the skill of foraging for food, but you learn a lot of botany in the process. Being able to recognize plant families is an underrated skill that I actually find helpful in my daily life."
— Bryn Sawyer
What if a Single Decision Taken Today Would Not Only Enhance Your Outdoor Experiences, But Potentially Safe Your Life?
✅ Know how to cheat death in the wilderness by preparing ahead of time and avoiding the most common mistakes
✅ Discover the ten most useful plants in bushcraft and emergency survival situations
✅ Find the best hunting locations for deer, elk, moose, and wild sheep based on reading animal tracks and sign
✅ Learn key strategies for living off the land by identifying and harvesting nutritious wild plants
✅ Pass down important skills to the next generation before they lose the ability to be self-reliant!
✅ Acquire fundamental navigation and orientation skills of reading a map and compass to ensure you know where you are at all times

✅ Find out what goes in and how to assemble a 'bug out bag' or 'expedition ready kit' for quick getaways

✅ Identify big predators in your camping area by confidently identifying the tracks of bears, lions, wolves, foxes, and coyotes
✅ Discover the tips, techniques, and equipment for processing and storing wild foods so you know exactly what to do after you harvest them.
✅ Know how to select the most important survival gear for long expeditions exploring mountains, deserts, forests, and swamps

8-Week Live Online Course
April 19 - June 7th, 2023
Wednesdays at 7pm Central
Price: $295
Don't miss out on this incredible offer. In addition to the 8 live course sessions, you'll get lifetime access to our video library with over 50 hours of on-demand instruction in wilderness survival, wildlife tracking, and foraging for wild plants!
We're so sure that you'll love The Ultimate Outdoorsman that we're offering an outrageous guarantee: You have 14 days after the course starts to change your mind and ask for a refund. No hassle, no questions asked, no hard feelings!
Lee Burton is the owner of Naturalist Studies, an adjunct professor at the University of Florida, Texas A&M, and the University of Idaho teaching courses in animal behavior and communication. He is also the former director for Conservation Centers for Species Survival and has been profiled on Steve Rinella's Meateater podcast. He has led field programs in North and Central America, and is a Master Naturalist as well as being certified in Wildlife Track and Sign by Cybertracker North America.
Lee mentored under Jon Young (founder of Wilderness Awareness School) and is recognized as a Bird Language Leaders Instructor.
Matthew Hunter is the founder of Legacy Wilderness Academy and the creator of three outdoor education courses: Fundamentals of Wilderness Survival, Foraging 101, and Sonoran Desert Foraging.
He has filmed over 150 videos about edible wild plants and outdoor skills, and regularly leads plant walks in his local area. He also maintains a foraging blog, and is the author of Sonoran Desert Foraging, a book that is set to be published in 2023.
Frequently Asked Questions
Will Lessons Be Recorded?
Yes, live lessons will be recorded, so even if you can't make to every class you will still be able to watch them any time!
Will This Course Work for my Son/Daughter?
The Ultimate Outdoorsman is homeschool-mom approved. It was made for adults, but will also work great as a high-school nature/science/outdoor course. Hands-on video tutorials will equip students to develop core skills in survival, wildlife tracking, and foraging. After watching the videos, they'll be begging you to take them out into the wilderness to explore!
How Long Will I Be Able To Access The Videos?
There is no time limit on the videos. Once you enroll in the course, videos, class recordings, and ebook are yours for life!
© 2023 Naturalist Studies